Boston: Freedom Trail and Lobster Rolls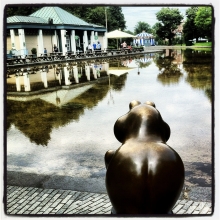 My first tip for a trip to Boston, if you are flying in, get a window seat. Jigsaw pieces of water fit together with land forms, and the city itself emerges like a kingdom on a map from Lord of the Rings or Game of Thrones. We circled Logan International once, the runways on this peninsula of land looking impossibly short, the water surrounding it filled with white swipes of paint...the sailboats and yachts of Boston Harbor all coming in at the end of the day. It was an uneventful landing, and soon I was cabbing through tunnels to my hotel in the Back Bay of Boston, the Taj.
There are many things I liked about this hotel. Norman the doorman, who has been at this hotel for sixty plus years, is a treasure trove of character and information. (All of the staff are extremely helpful and inviting.) As the only hotel on the famed shopping street of Newbury and directly across the street from Boston's Public Park, the location of this former (and original) Ritz Carlton is unique and wonderful. There are rooms with working fireplaces, and fireplace butlers who have an array of woods you can burn to different effect.
It was early evening when I arrived on a Sunday, in town for meetings that began Tuesday morning. The Bar, situated on lobby level, with full glass windows that face Arlington Street and the Park, was the cozy spot I chose for dinner. I went Indian, with a shrimp curry dish that was delicious and two glasses of Sancerre. Happy and sated, I was happy to retire to my room which faced the park. My bell captain, Sita, had cracked the windows for me, and the cool fresh air, good mattress and Frette sheets made for a wonderful night's sleep.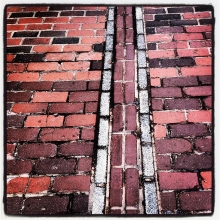 Monday morning, I woke early, wanting to make the most of my day. Tip number two for a trip to Boston in summer, take a variety of clothing and a rain jacket! The morning was cool and sunny, and I made my way up Newbury to L'Aroma cafe, where I sat outside with a delicious oversized mug of cafe latte. This was a local place, and everyone seemed to know everyone else. The surprise to me was how they immediately took me in as well, giving advice on the city and one gentlemen even offering to share a bite of his coffee cake.
Dressed in my running clothes and shoes, I took off on foot after breakfast and headed in to the park at 9am. Full of children, school groups and local gardeners, the fairytale of Swan Pond conjured up E.B. White's "Trumpet of the Swan." The giant paddle boats are powered by a captain, and passengers are allowed to simply enjoy the ride. Crossing Charles Street, I entered the Boston Commons. Another charmer, the shallow Frog Pond freezes in winter and allows for iceskating. Past the pond, I picked up the red line of the Freedom Trail, a 2.5 mile walk that leads to sixteen significant historic sites, most of which are free to enter. The Old South Meeting House, Old State House and Paul Revere House have small admissions.
Tip number three for a trip to Boston, don't rent a car and bring walking shoes. I covered most of the Freedom Trail, (the Old City Hall now houses a Ruth's Chris steak house in part of it, tastefully done, but still amusing.), checked out two other hotels, The Fairmont at Battery Wharf and The Boston Harbor Hotel, both excellent waterfront options, strolled through Quincy Market and then arrived at Neptune Oyster (63 Salem in the North End) at 1pm for a lobster roll as recommended by my breakfast companions. There was a fifteen minute wait for a single spot at the bar, forty-five minutes for a table for four. The hostess offered to take cell phone numbers and call you when a table was available, as the tiny space was too tight to wait in. I sampled a cold lobster roll, delicious chunks of fresh lobster lightly dressed in a lemony mayonnaise and served on a gourmet hotdog bun. Once again, I was seated next to a friendly local who asked for another glass so I could sample his local beer, Notch. Yum.
A bit of rain fell on the way back to the hotel, but then the sun came back out. The shower at the hotel felt great, strong, hot water and Molton Brown shampoos and soaps. I headed back up Newbury Street, window shopping along the way. There is a quite a variety from Chanel and Burberry to Niketown and Anthropologie. Copley Place Mall is also not far away with high end department stores like Nieman Marcus and even a Barneys New York, mixed in with the Gap and Banana Republic. Back at the hotel, I chatted with the concierge about dinner options and decided to try Hamersley's Bistro (53 Tremont in the South End). Walking out of the front door a family of three was finishing up a ride on one of Boston's Pedicabs, a bicycle cab which is paid by tips only, and I made an impromptu decision to try this as a way to get to the South End. Luke was my cyclist, and we detoured so I could pass by Fenway Park and the neighborhood's of the South End before ending up at Hamersely's. I took Luke's number so he could pick me up for the ride back, and this was a good thing because Hamersley's was closed for a private party. While we were cycling back, I got a call from one of my colleagues that they had arrived at the Taj and did I want to meet up with a group who was in The Bar. Dinner number two at The Bar was excellent again, this time a thoroughly western strip steak perfectly cooked and a few glasses of Malbec.
Thus ended my free day in Boston. Next time I visit, I will try again for Hamersley's Bistro, the space and the menu looked excellent. I will also look into accommodations at The Boston Harbor Hotel. Touted as the best hotel in Boston, you can actually water taxi straight from Logan to the hotel itself. Also, recommended by everyone, a Boston Duck tour uses a World War II style amphibious vehicle to go from land to water and see the highlights of this historical city.
Tip number four for a trip to Boston, the city is expensive and summer is high season. Prepare accordingly.