Namibian Desert to Botswana Luxury
Saturday, February 25, 2023

to

Saturday, March 11, 2023
This uber luxury safari is still being handcrafted for travel in late winter/early spring of 2023. Dates have not been finalized. This trip will be a full two weeks in two amazing south African countries. Hosted by Kristen Holt Burckhartt, eight couples will begin their adventure in Namibia. No amount of imagining can conjure up what Namibia delivers. San Bushmen named this stretch of coastline 'The Land God Made in Anger' and it's possibly the last place you'd expect to find a luxury lodge in Namibia. Bleached whale bones and decaying hulls of doomed ships line the Skeleton Coast, a richly deserved moniker. Look carefully though and you'll find that this vast wilderness is, in fact, full of life. The sea is rich with marine creatures which feed off the nutrients in the Atlantic currents and the eerily beautiful sea fogs provide moisture for the sustenance of plants and insects, often just below the sand's surface. And inland, there are desert-adapted elephants and lions, as well as the occasional kudu, some of which occasionally find their way to the beaches creating absurd 'am-I-seeing-things' moments.
Our first stop: Shipwreck Lodge comprises ten uniquely designed huts set high on the dunes overlooking the Skeleton Coast. Each is constructed from wood with walls and windows skewed at angles to resemble the grounded wrecks. They are delightfully cozy, with wood burning stoves, faux-fur throws and velvet daybeds. Dining is in a central lounge and restaurant which has a wraparound deck from which the views can be enjoyed.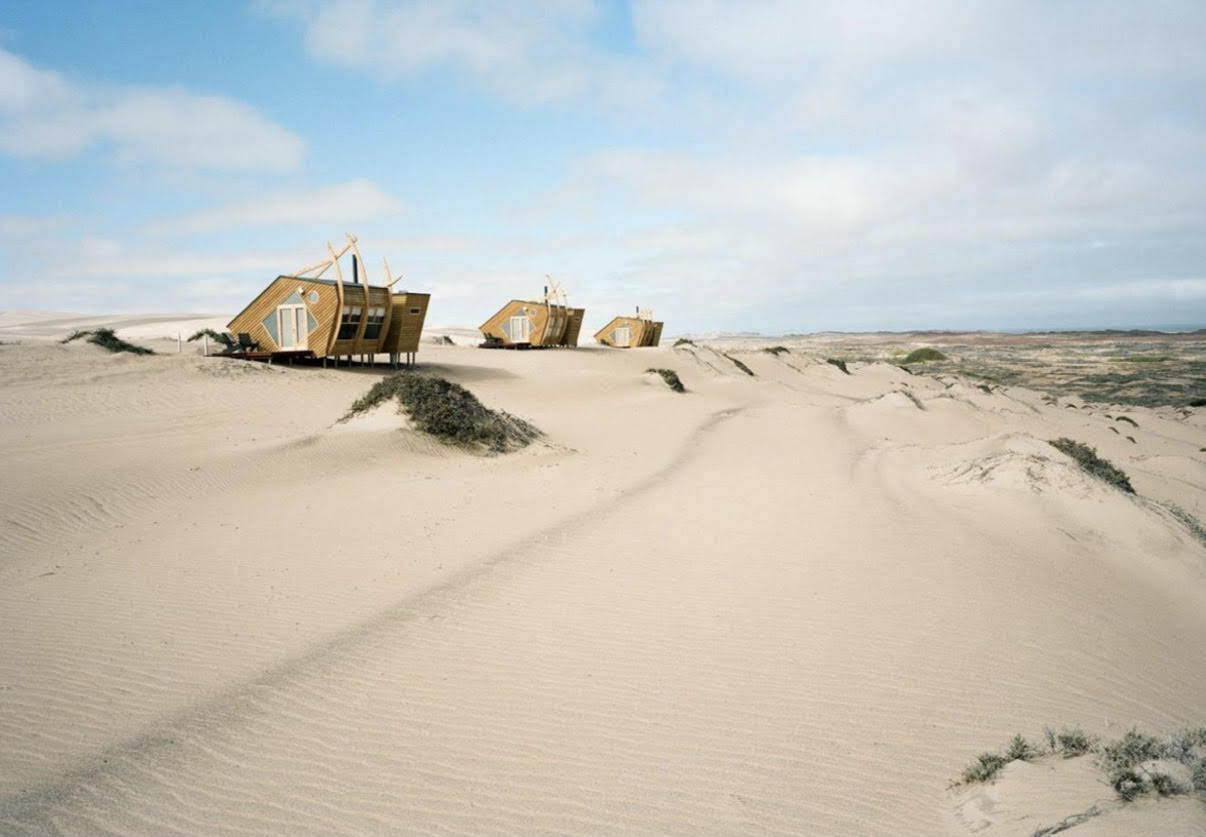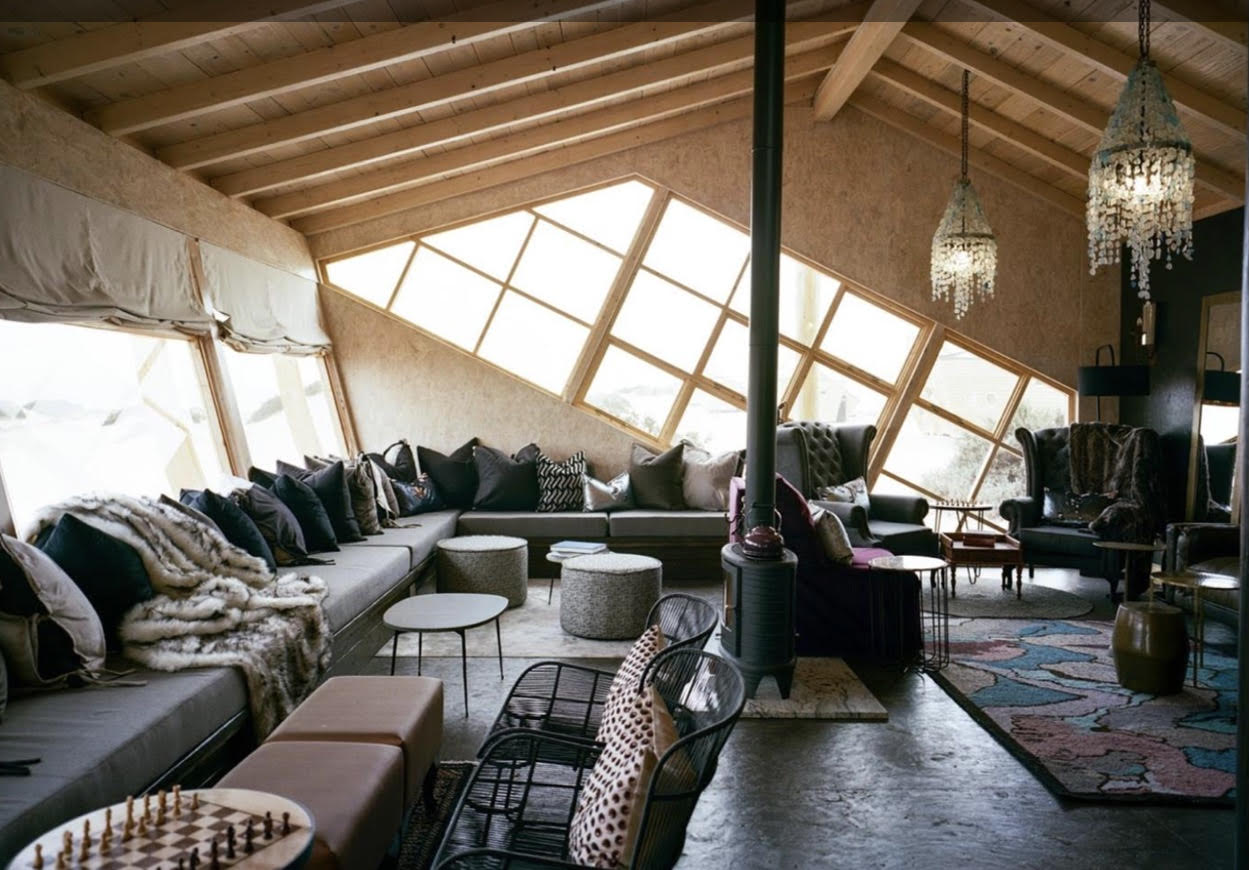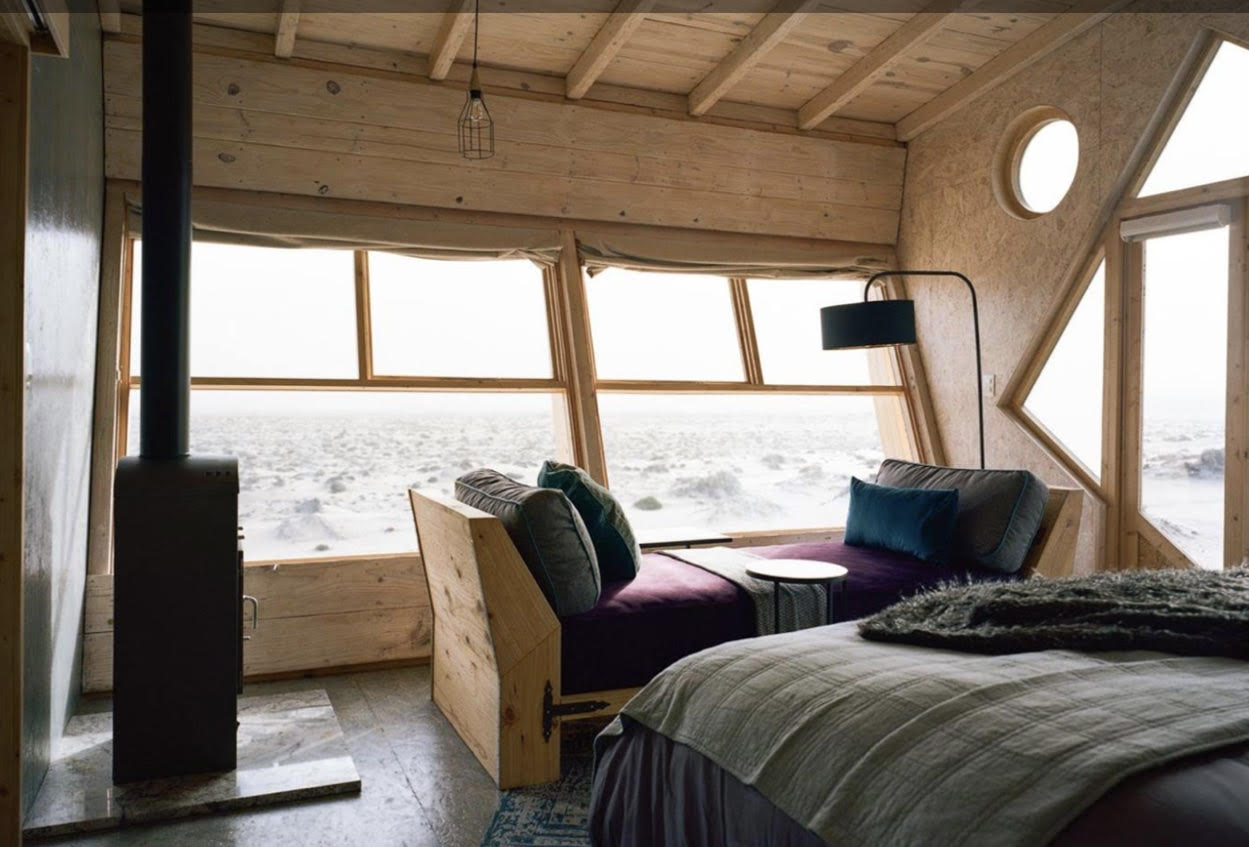 THINGS TO DO AT THE LODGE:
Enjoy the splendid isolation on the deck of your hut, with views over the dunes to the Atlantic.
Dine in the uniquely-designed restaurant with post-dinner drinks in the lounge.
THINGS TO DO NEARBY:
Beach walks to spot bleached whale bones.
Drives to the Karimona and Suiderkus shipwrecks close to Henties Bay.
Game drives in the Skeleton Coast National Park and along the Hoarusib River to spot desert-dwelling wildlife including elephant and lion.
Go birding - birdlife is prolific here. Don't forget your binoculars.
Fishing.
Visit the Mowe Bay seal colony.
Our second stop: A luxury lodge in Namibia wasn't part of Zannier Hotels' plans until a chance encounter between the boutique hotel group's founder, Arnaud Zannier, and film actress and producer, Angelina Jolie. The encounter resulted in Omaanda, a boutique lodge, with ten individual thatch and clay huts in the heart of a 9,000 hectare private wildlife conservancy. Omaanda partners with the Na/an ku se Foundation to protect the biodiversity and incredible wildlife of the Khomas Hochland Plateau just half an hour from Windhoek. The vast landscapes are home to leopards, baboons, jackals, antelopes and more. Within the reserve, the recently opened Shiloh Wildlife Sanctuary treats and seeks to reintegrate animals affected by poaching.
The chic huts have either one or two bedrooms, created in understated, Namibian style, with earth and clay colours, African antiques and furnishings from natural materials. The simplicity belies 21st century comforts which include a flat screen TV, Bluetooth sound bar, WiFi, minibar, Nespresso machine and air-conditioning. Generously proportioned bathrooms include double vanity basins, large bathtubs and walk-in rain showers,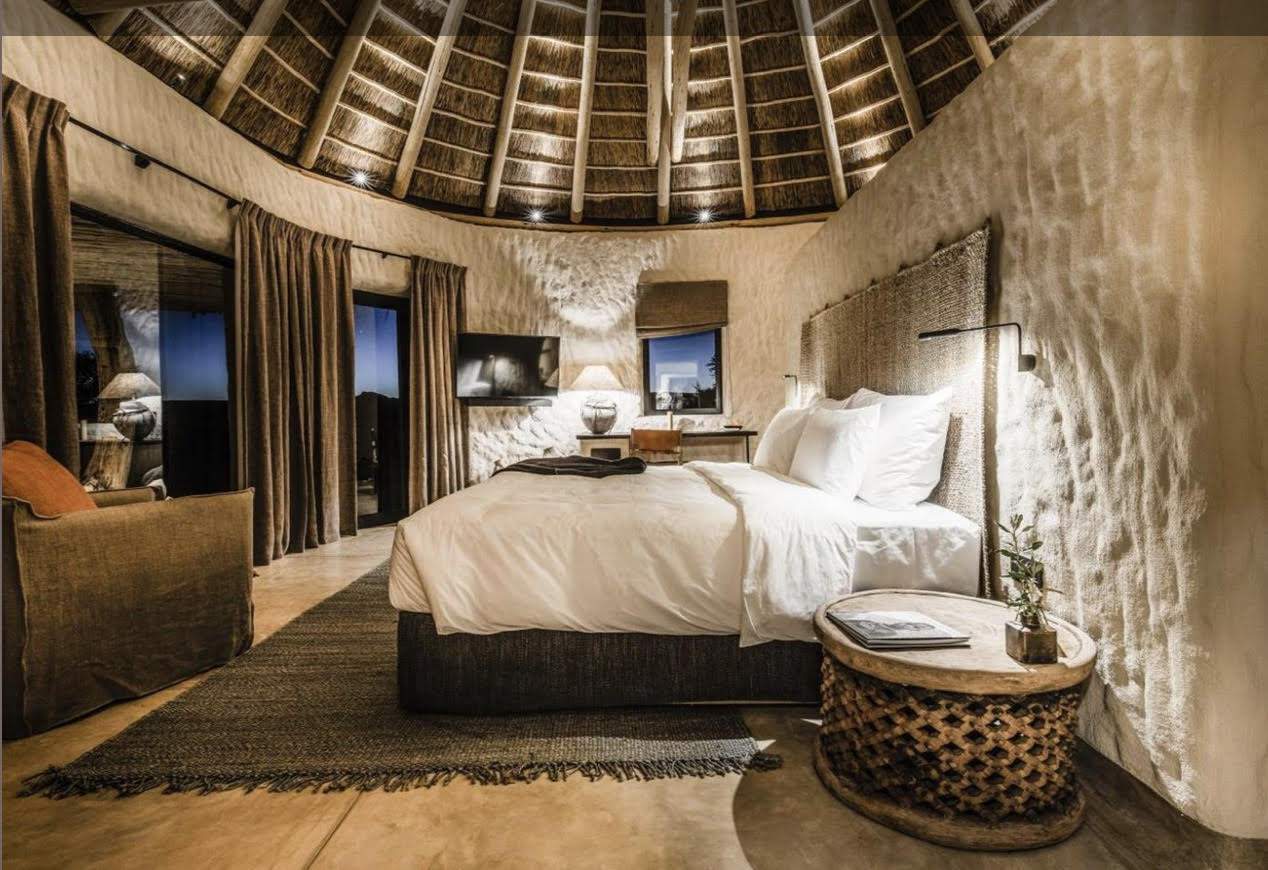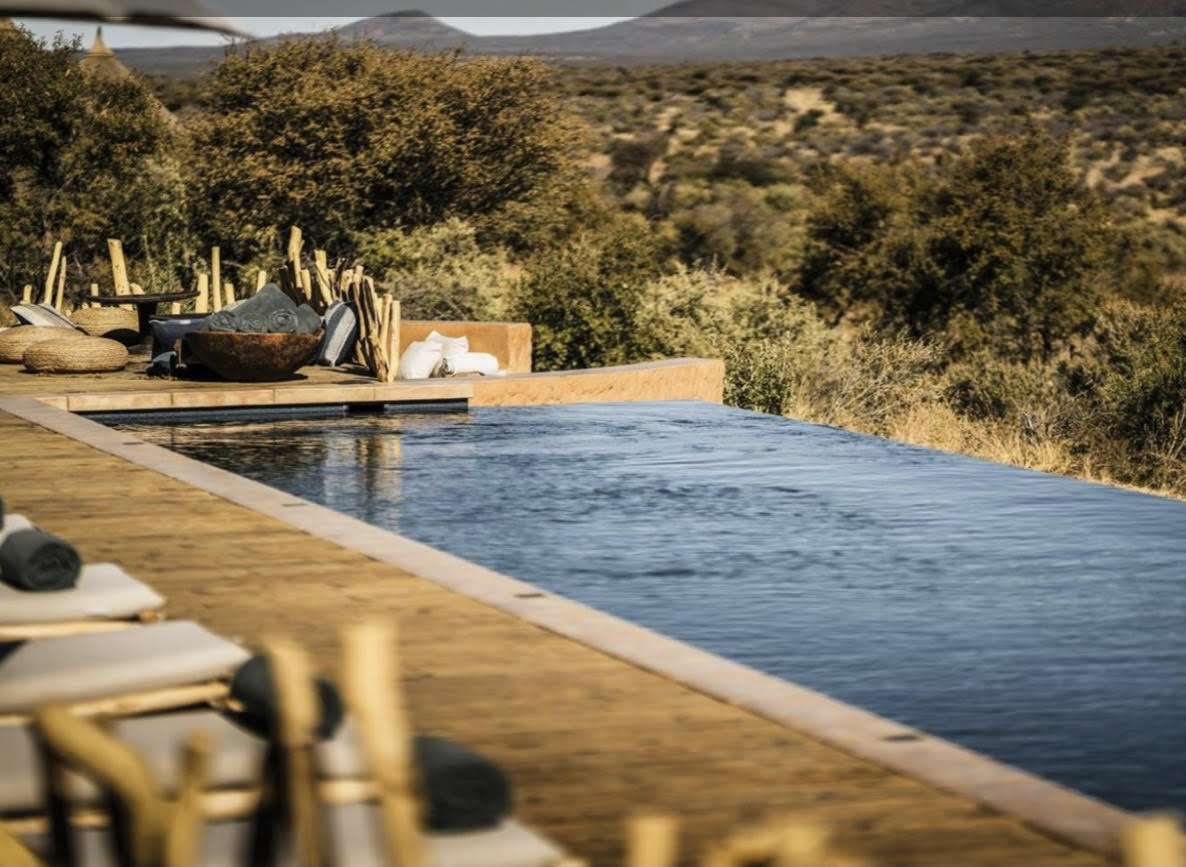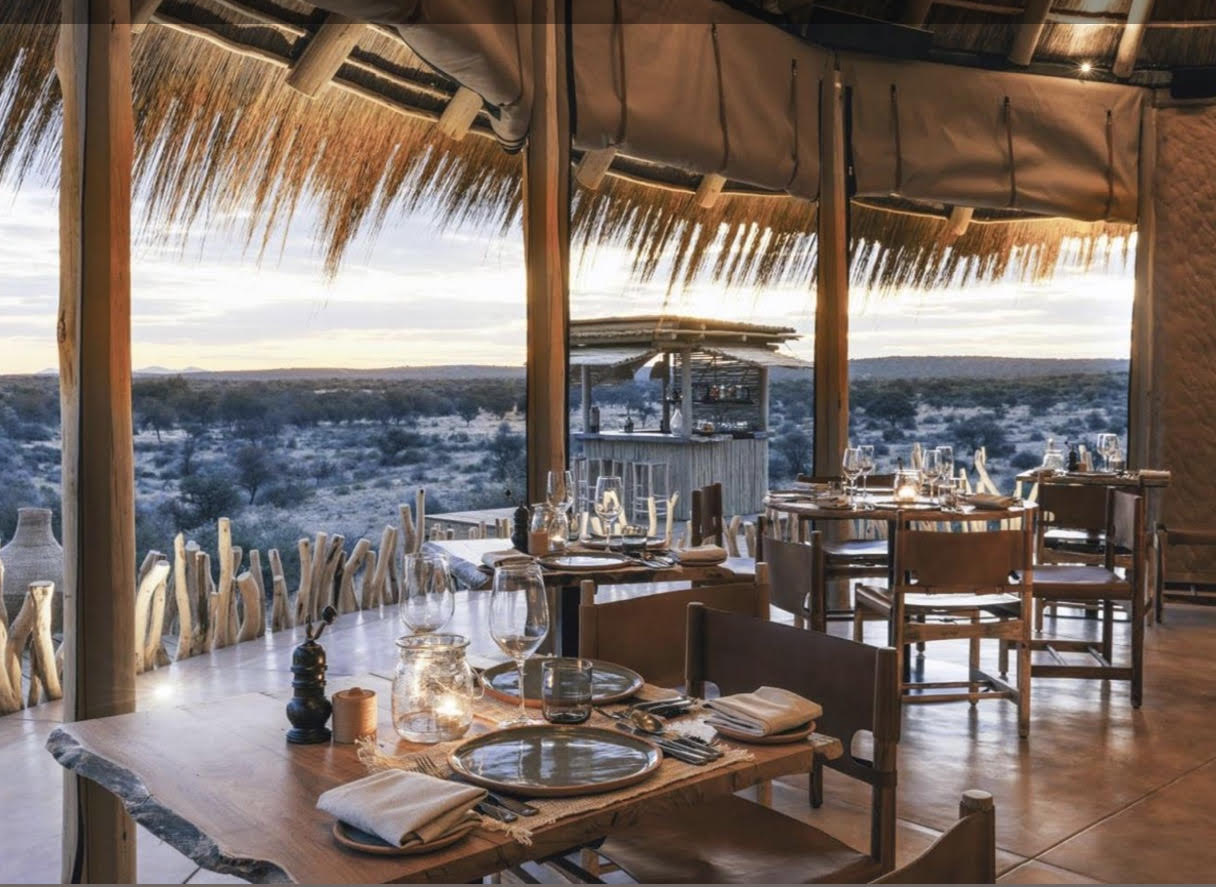 THINGS TO DO ON THE RESERVE:
Relax poolside - there's a 15 metre heated infinity pool, with adjacent pool bar and superb views over the surrounding savannah.
Unwind in the spa, where a double treatment room offers rituals based on ancient Namibian beliefs and traditions.
Enjoy sundowners or aperitifs in the boma. The bar keeps a wide range of wines, spirits and cocktails.
Dine at Ambo Delights, an open air restaurant with spectacular sunsets.
THINGS TO DO NEARBY:
Explore the Shiloh Wildlife Sanctuary, a project to nurture elephants and rhinos injured or orphaned following poaching incidents. Guests can meet with the veterinarians and learn about the support provided by the sanctuary.
Twice daily game drives through the reserve on the Khomas Hochland Plateau. Group and private drives can be arranged.
Wildlife tracking - elephant, leopard and rhino are regularly sighted.
Watch meerkats as they play.
We now fly to Botswana, a land of diverse landscapes from wetlands to salt pans.
Our third stop: Xigera Safara Lodge (pronounced "Kee-jera") holds a very special and historic place in the Okavango Delta, having first opened as a pioneering water-based camp in the 1980s, located in the heart of the game-rich Moremi Reserve. Since then it has had a few incarnations but none more spectacular than its latest rebirth.
The location of the camp is particularly special since it accesses both permanent water channels and floodwater lagoons as well as a patchwork of islands and riverine forest, so wildlife viewing activities range from boating and mokoro safaris to game drives by vehicle and even walking. Even your arrival is breath-taking, the approach to the lodge being via an elevated bridge over a papyrus-lined waterway.
Just 12 suites (their design inspired by the flight of the Pel's fishing owl) sit suspended on stilts and connected by raised wooden walkways under the shade of ancient trees. Each has its own spacious deck leading to a comfortable daybed with views over the pristine floodplains. The indoor and outdoor space covers a vast 1,980 sqft and comprises a lounge, bedroom, bathroom and dressing area as well as your private deck. All are exquisitely decorated with handcrafted materials and fittings in warm neutral tones chosen to compliment the natural environment.
An astonishing 105 members of staff look after just 24 guests, making every experience seamless. This is safari at its finest.
While wildlife viewing is the primary reason to be here, Xigera spares nothing in providing a tranquil haven for soothing spa treatments and massages while the in-house yoga instructor offers daily sunrise and sunset practice as well as private sessions for mindfulness and meditation.
For a truly unique experience guests should not miss the opportunity to spend the night (or simply dine) in the Baobab Treehouse. Set over three floors with panoramic views on each level, it offers a chance to be completely immersed in the wilderness while being fully protected from the elements.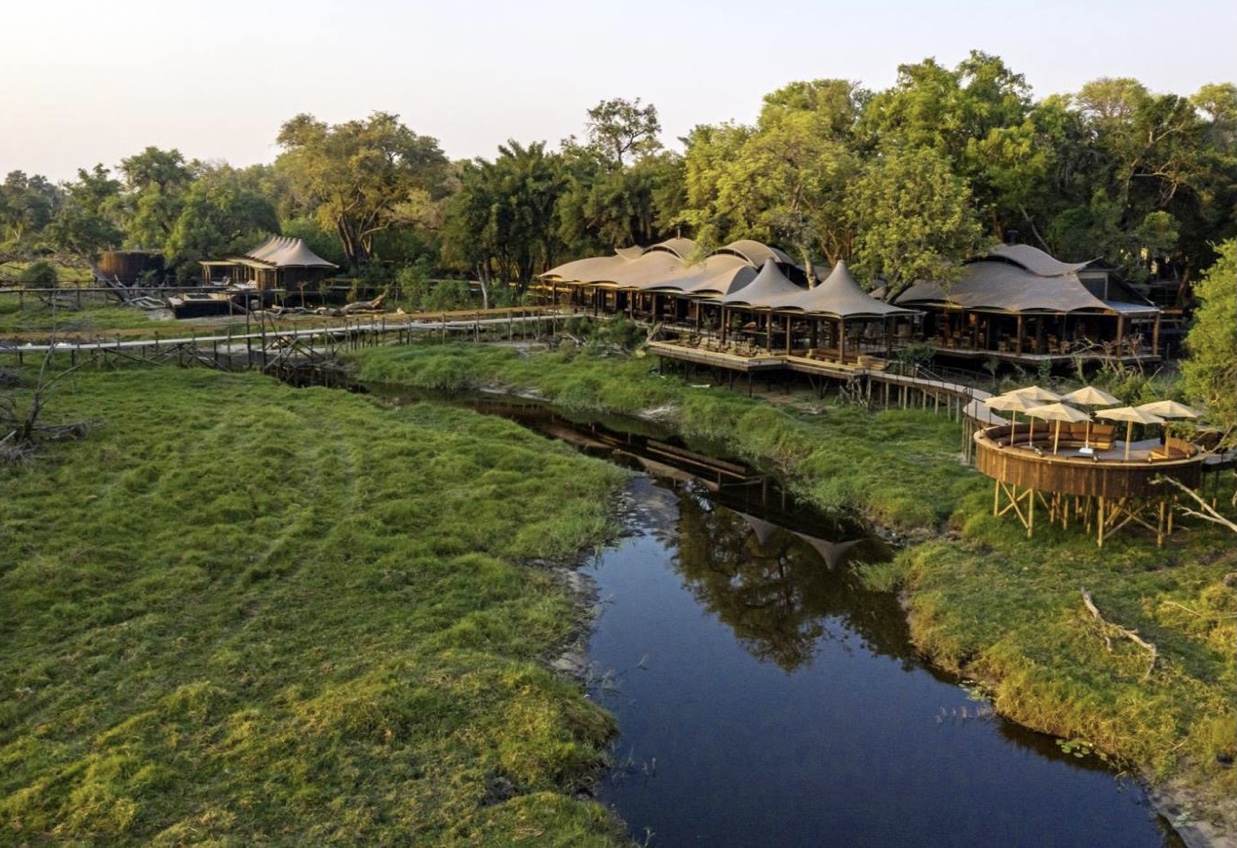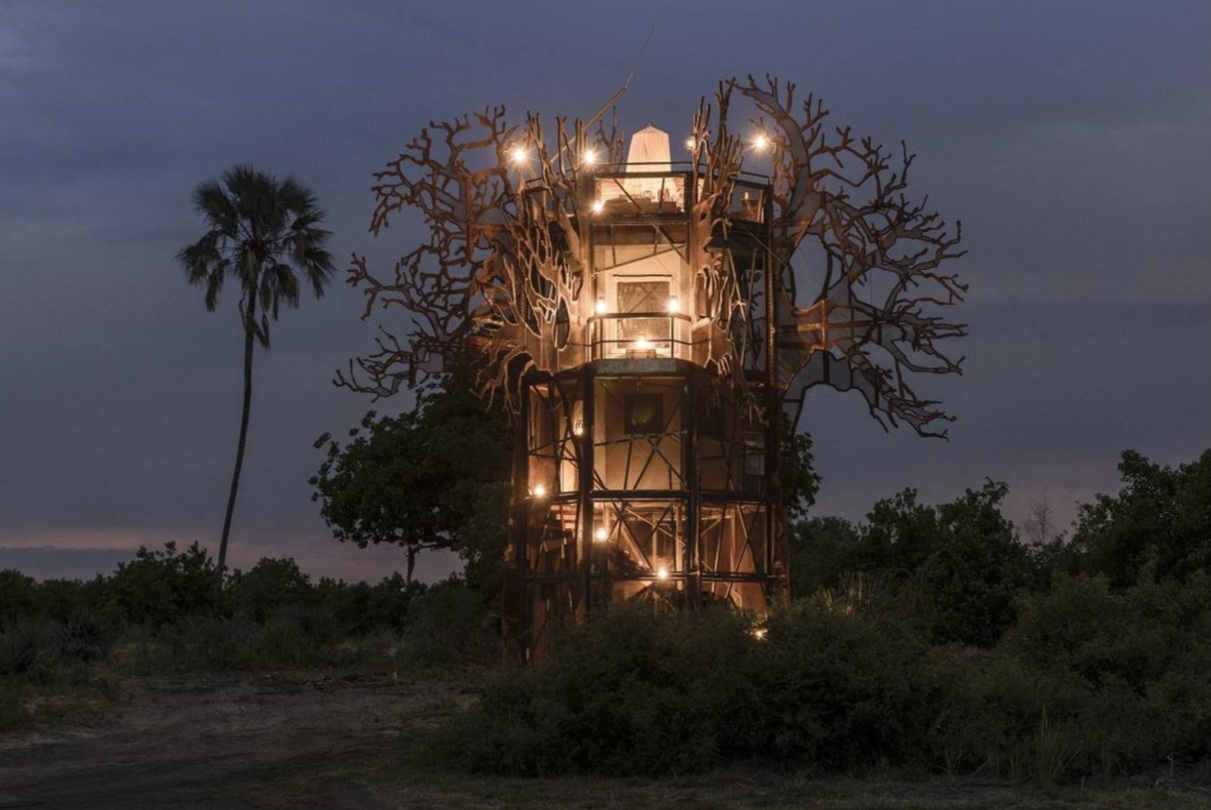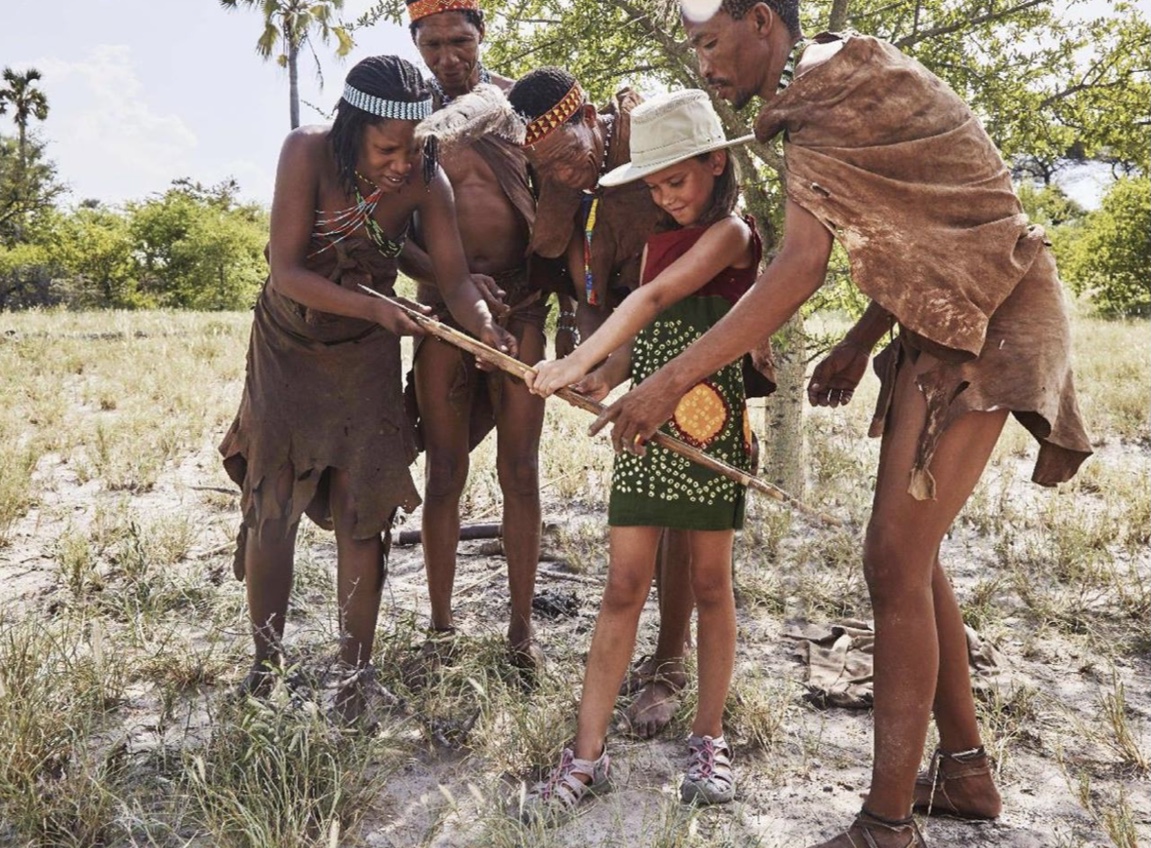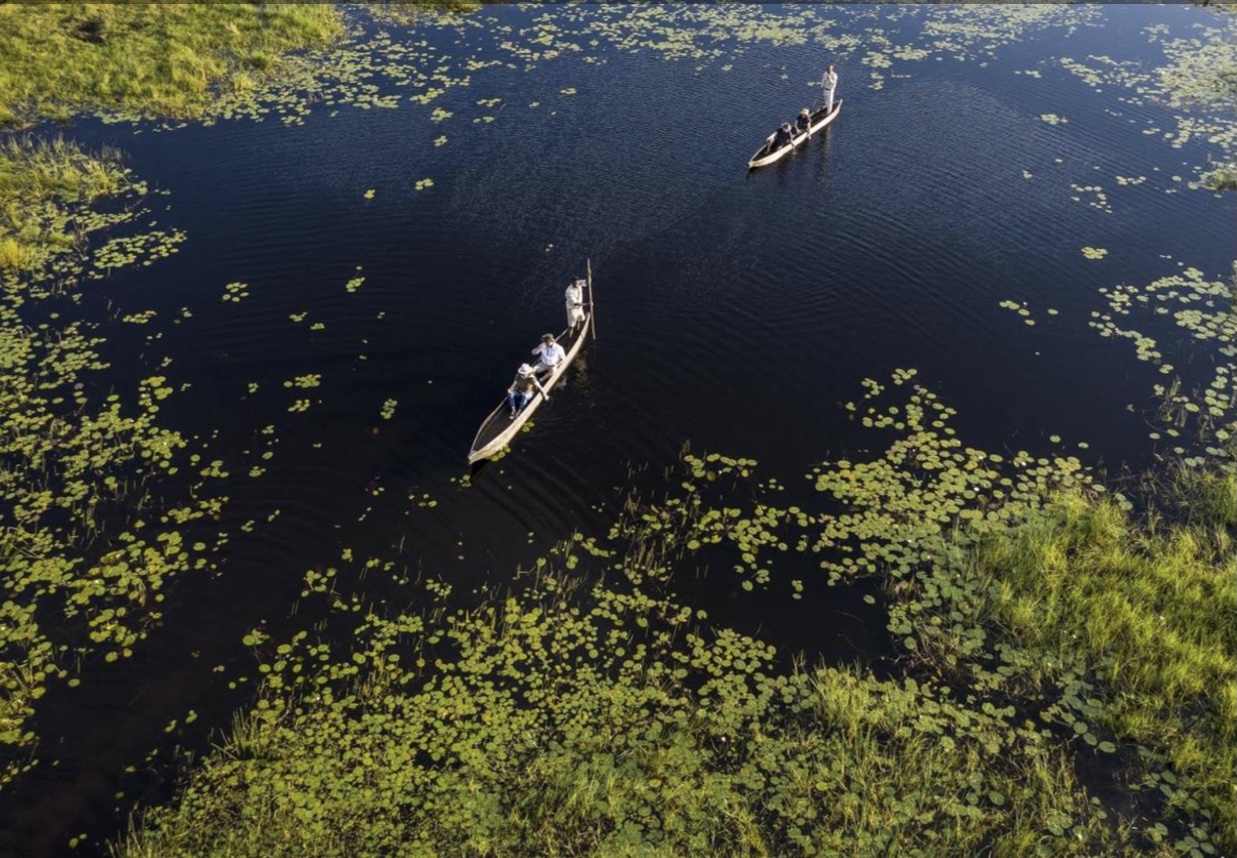 THINGS TO DO ON THE RESERVE:
Fully absorb the sights and sounds of the Okavango Delta.
Dine at leisure under the stars by candlelight to sounds of gently rippling water.
Relax in the spa or simply contemplate life from the sanctuary of the yoga pavilion.
Dine in the Baobab Treehouse.
THINGS TO DO NEARBY:
Enjoy daily game drives in custom-built 4x4 vehicles.
Catch and release fishing just outside the Moremi Reserve.
Drift along waterways in traditional dugout mokoros.
Walk with an expert guide and enjoy the diversity of local birdlife.
Photographic safaris for all levels.
Our fourth stop: The grand finale! Founded in the 1960s by explorer Jack Bousfield and set on the edge of Botswana's Makgadikgadi Salt Pans, Jack's Camp is one of Africa's most legendary safari camps. Recently refurbished, the camp's ten lavish canvas-walled tents, rich with old-school glamour, are filled with hand-made textiles from around the globe, four-poster beds and artefacts from the Bousfield family's private collections. Each tent has a private deck with a plunge pool where you can soak up the haunting silence of the arid Kalahari Desert, and witness herds of wildebeest cantering past towards their evening pastures.
Meals take place in a communal mess tent filled with comfortable sofas and a small library and antique pool table. There is also a large, central swimming pool and a brand-new spa tent - a welcome retreat after days filled with bushwalks, game drives and horse rides across the plains. This is a fantastic place to spot the more unusual species; brown hyena, bat-eared fox, Kalahari lion and meerkat from Jack's pioneering habituation project. Groups of curious ostrich may also pass by to inspect your activities as you relax in the camp's delightful surroundings.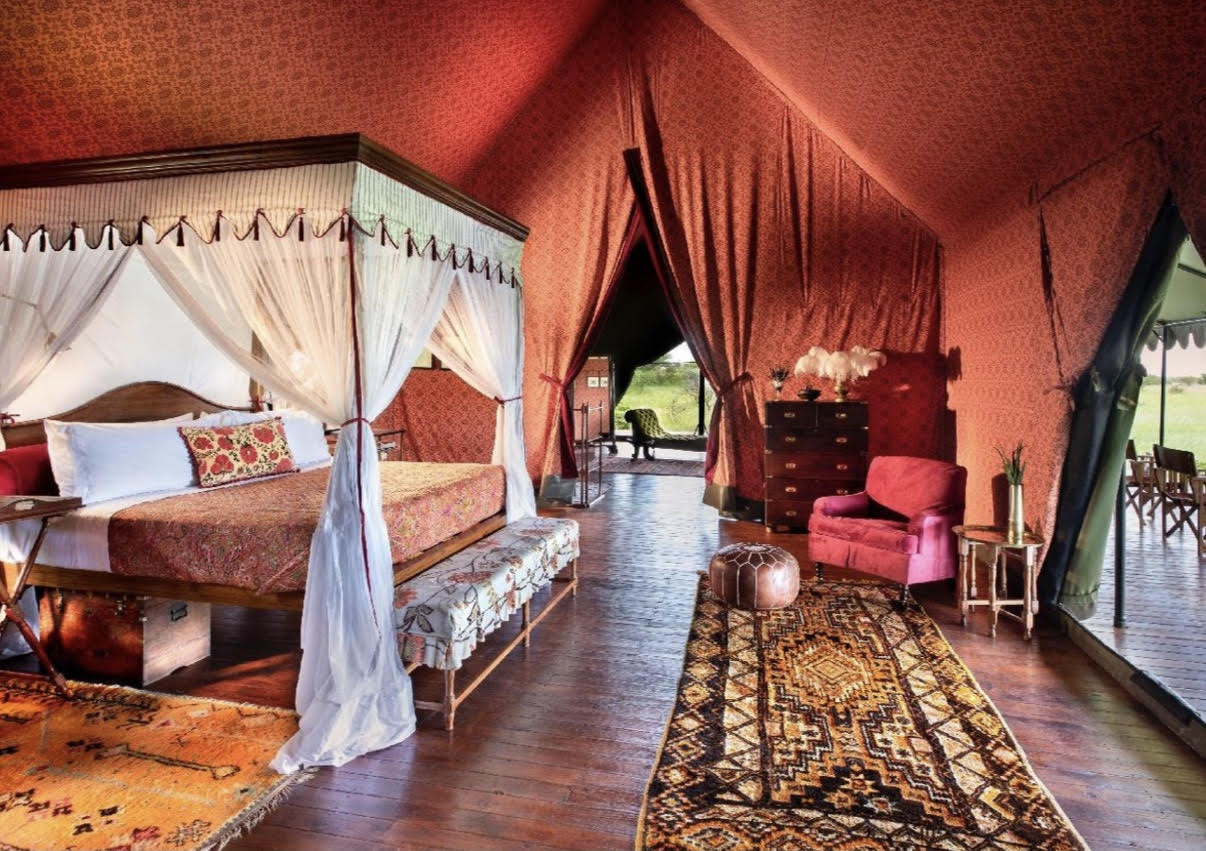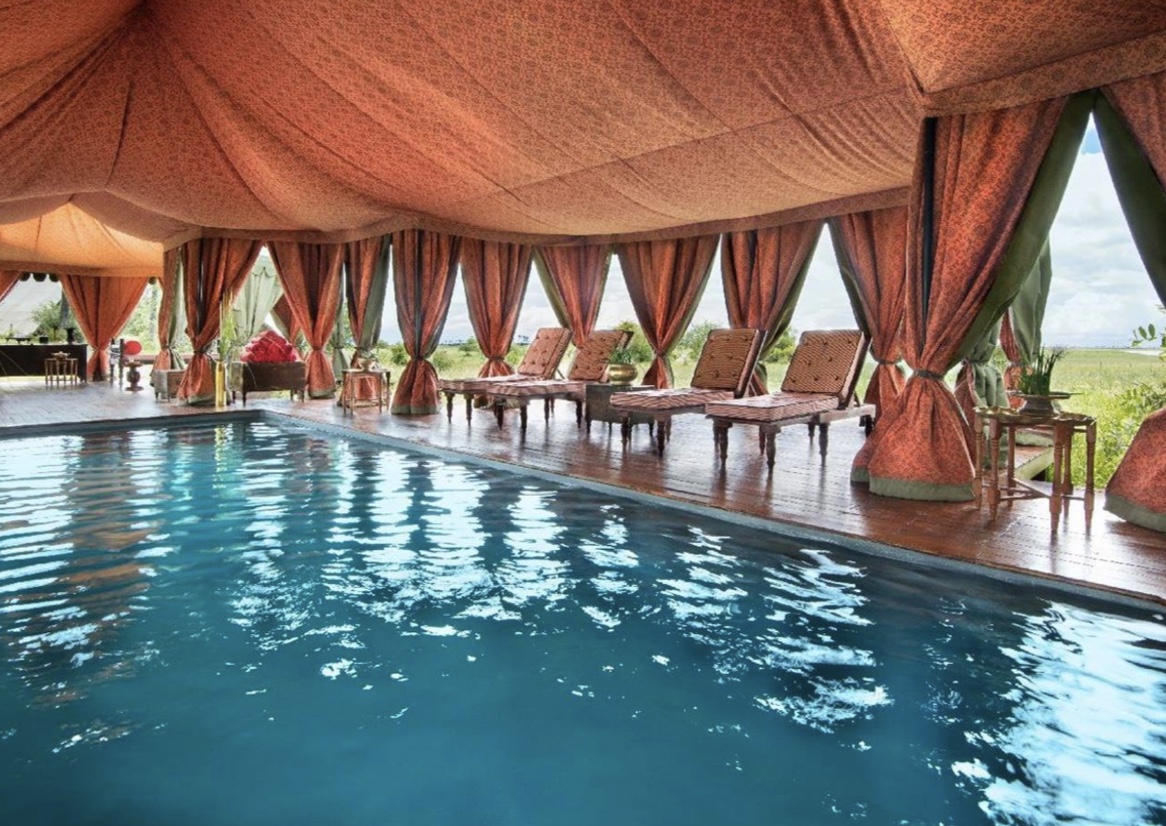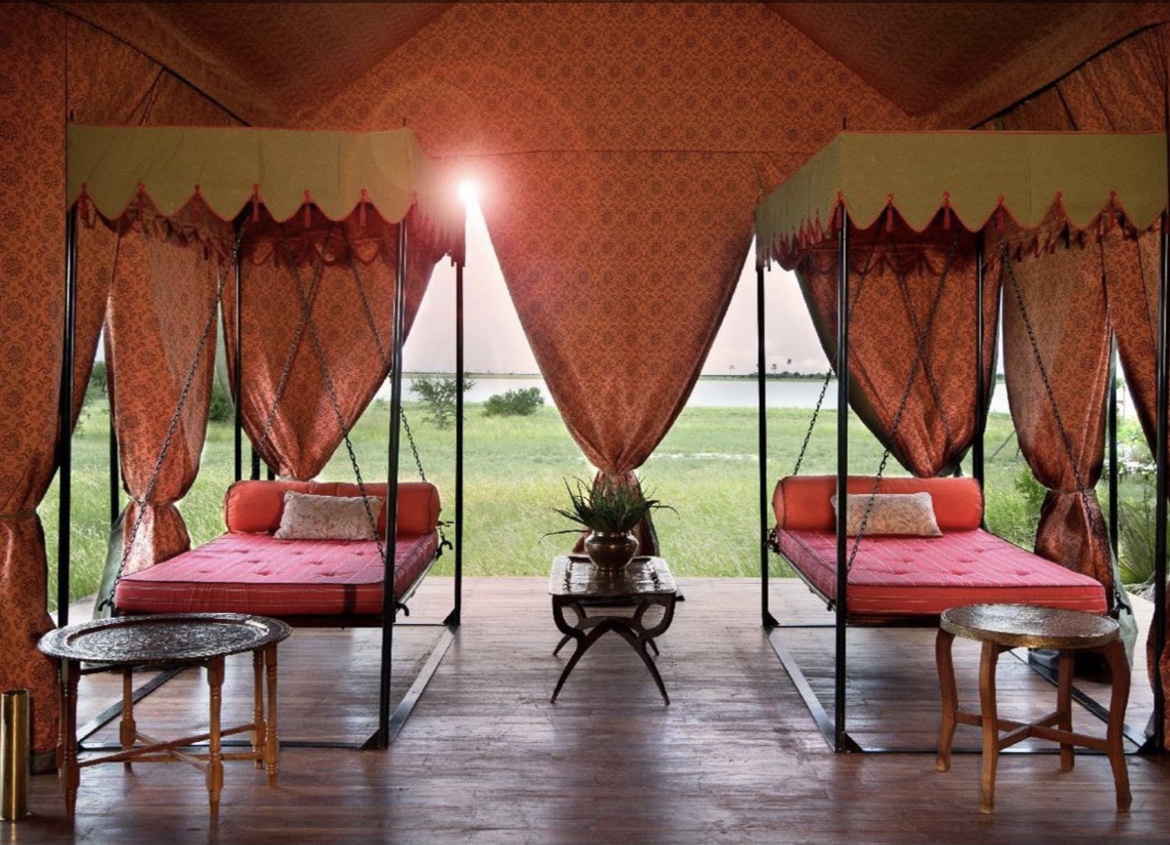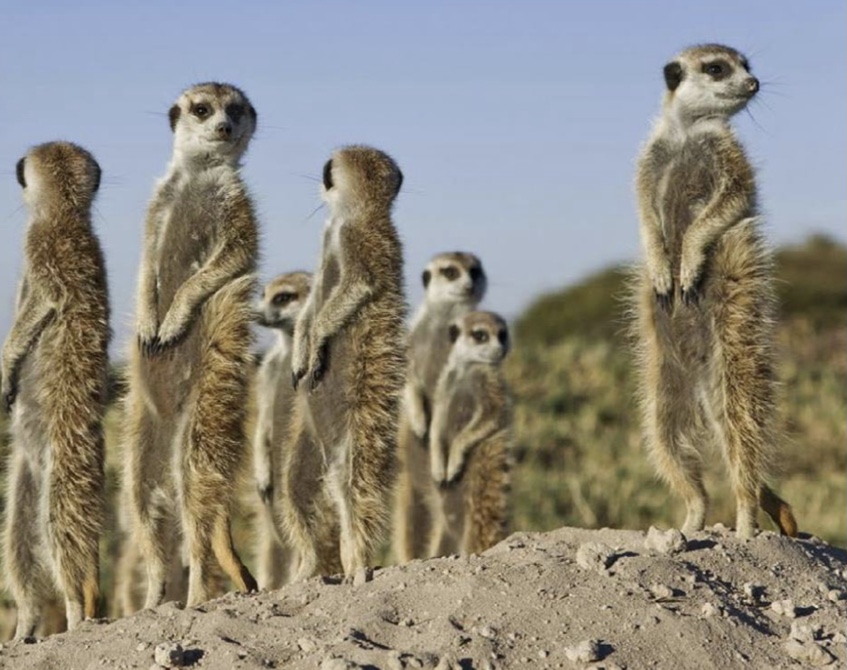 THINGS TO DO AT THE PROPERTY:
Seek out desert wildlife such as oryx, brown hyena and Kalahari lion on game drives by day and night.
Set out on a memorable walk with the Zu/'hoasi Bushmen.
Admire the views of the Makgadikgadi pans from your private plunge pool.
Enjoy encounters with the family of habituated meerkats.
Take an exhilarating quad biking adventure across the salt pans.
Refuel after your adventures with sweet treats in the Persian tea tent.
Discover the 'Natural History Museum', an impressive collection of ancient artefacts from the Bousfield collection.
THINGS TO DO NEARBY:
Discover the region's pristine landscapes on horse back.
Visit the site of Chapman's Baobab, one of Africa's largest and most ancient trees.
View the salt plans from an entirely different perspective with a helicopter flip.